When it comes to getting justice in a vehicle-pedestrian accident or a vehicle-bicycle accident Sperline Raekes Law can review your case and help you get the compensation you deserve.
Pedestrians and bicyclists are extremely vulnerable to getting hit by cars, trucks and SUVs.
These types of collisions can be caused by many factors – the driver not paying attention to their surroundings, speeding, drug or alcohol use, ignoring stop signs or driving while distracted. As populations grow and cities get bigger and busier, that ever-present risk is on the rise.
Insurance may be willing to pay, but is the amount of compensation being offered going to be enough to cover the pain, suffering, emotional trauma, rehabilitation, depression, disability, lost wages, financial hardship and the many other possible areas of harm caused by the accident?
Jeff Sperline and John Raekes have 25 years of collective experience working directly for the same insurance companies they now litigate against. They know the system; they know how to get you the compensation you deserve.
When you're involved in a pedestrian accident or bicycle collision, it's important to take steps to protect your legal rights while you still can. 
If you've been injured in a pedestrian or bicycle accident, we can help by:
Check out these Road Safety Tips for Drivers & Bicyclists to help stop accidents before they happen.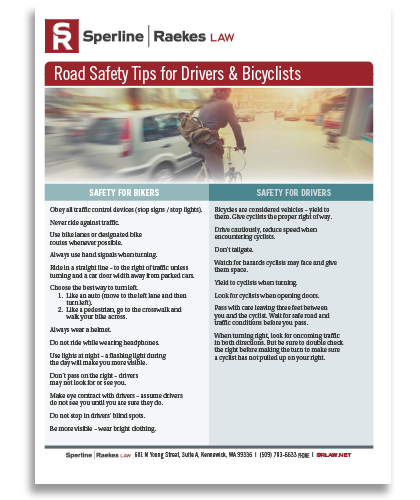 Road Safety Tips for Drivers & Bicyclists
Recovering from a bicycle or pedestrian accident is very difficult.
Let us do everything we can to get you what you're entitled to, to the fullest extent of the law. Contact us today at (509) 783-6633 to set up a consultation with a lawyer from our office.