At Sperline Raekes, our attorneys focus on a positive outcome for you and your family, so you can concentrate on the healing process.
While a lawyer is not always necessary for these types of cases, the extent of injuries is not always immediately evident.
After a car accident, avoid discussions with insurance companies. They will always encourage you to agree on a settlement. To protect your rights, download our "Auto Accident Checklist & Tips." It's important to take certain steps following any auto accident.
Because we previously worked for the insurance companies, we know you are more likely to secure a fair settlement when you have an experienced auto injury attorney on your side.
If you've been hurt in a car accident, we're here to help by:
If you are involved in a car accident,
use our Auto Accident Checklist & Tips
to gather important details about the accident.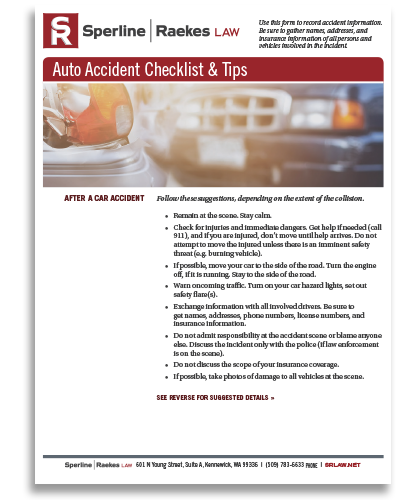 Auto Accident Checklist & Tips
Our experienced trial lawyers have first-hand knowledge of the insurance industry, helping you obtain the best recovery.