At Sperline Raekes, our attorneys focus on a positive outcome for you and your family, so you can concentrate on the healing process.
Evaluate If You Need an Attorney
Not all car accident cases require the support of an attorney, but when injuries and property damage are at stake, you may want to consider your legal options. While you might feel your auto injury is only minor in scope, with time, even a minor injury could prove to get worse. It's essential to work with a physician to ensure you are well cared for, and seek a Kennewick car accident lawyer if you feel negligence is a factor in your case.
There are specific steps that you should take after an auto accident, and we have outlined many of them in our "Auto Accident Checklist & Tips" worksheet. What we suggest, however, more than anything is to keep your interaction with the insurance companies to a minimum and do not disclose any medical or accident details. Insurance companies work hard to disprove your case, and they can take the smallest detail and exploit that to deny compensating you. 
Acquire a Car Accident Attorney
One of the best actions you can take after a car accident is to talk with an experienced Kennewick car accident law firm. Sperline Raekes Law has years of experience working on all sides of the car accident claim process. Our role is to identify how your car accident has impacted your personal and professional life and who is at fault. We have a network of people as well as resources that will prove invaluable to your case.
We suggest gathering as much information as possible about your case including accident reports, medical records, your insurance policy, and any witness contact information and bring that with you to your free consultation with Sperline Raekes Law. We suggest you write down as many questions as possible so we can tackle those as well, so you feel well informed by the time you leave our offices
Our car accident attorneys in Kennewick, Washington are standing by and are ready to listen to the details of your case. Please call or connect with us online and let's get started on your claim today.
If you are involved in a car accident,
use our Auto Accident Checklist & Tips
to gather important details about the accident.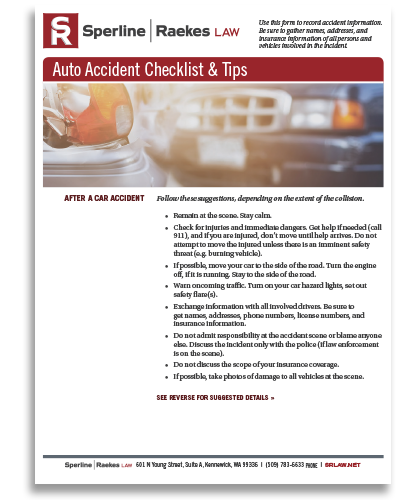 Auto Accident Checklist & Tips
Our experienced trial lawyers have first-hand knowledge of the insurance industry, helping you obtain the best recovery.